Pagans: The Wheel of the Sacred Year
Pagans: The Wheel of the Sacred Year (opening) from Ernest Urvater on Vimeo.
Paganism in its many varieties is one of the fastest growing religious and cultural movements of modern America. Who are the Pagans? What are they like? What does it mean to be a Pagan? What do Pagans believe, and how do they actually practice their faith?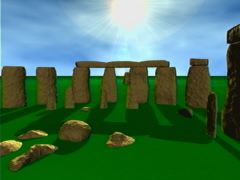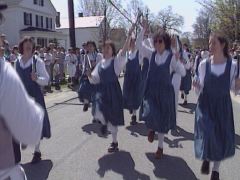 This program provides a fascinating, highly personal look at several groups of Pagans living in New England at the close of the 20th century. Expertly guided by Ellen Evert Hopman, a Druid Priestess, herbalist, and author of People of the Earth, this program records the major ceremonies of the Pagan sacred year. Pagans contains images beautifully captured by videographer James MacAllister, and a haunting original musical score written, performed, and arranged by Paddy Keenan (one of the founders of the Bothy Band).
Reviews

June 2013

I came across your production of "Pagans, Wheel of the Sacred Year," yesterday, just by chance. I had taken this vhs out of a local library back in 2003, in south Florida, and was very happy to see it. I had just recently began studying Paganism, and this put every thing I read in perfect vision for me, this was my path ever since I was a young child growing up in rural New England and then moving to Florida, as a young child, I still was a student of nature and the seasons. For many years after the first viewing of this beautiful explanation of Paganism I wanted to see it again, but failed to remember the title of the video.

I told many people of it and went back to the libraries, but as times passes so do the products. I love to google photos and yesterday, just by magic, I googled Pagan videos, and as I came across a snippit of your story, I watched the first sabbat, Yule, and I knew I found it after all these years, this got me so excited, I did more research and found out who did it. I can't tell you how happy I am to now be able to have this for my own,

Thank You, again for this beautiful portrayal of us Pagans, many people do not understand what this belief is all about, maybe now I can change this thought. Bless you, keep making videos for all of us to see, you have a great website, with lots of informative and engaging information.

Diane - Hollywood Florida
Video Librarian, Volume 15, #2, March-April 2000
by M. Tribby

Pagans ***

Since Paganism refers to not just one religion, but a tradition encompassing many belief systems, this low-key, in-depth documentary, which follows the festivals of the Pagan calendar, takes care in delineating the different traditions and practices shown. Wiccan, Druid and Native American devotees are seen engaging in nature-based ceremonies, the meanings and accoutrements of which are explained and explored as viewers are introduced to the eight high holy days of the Pagan calendar: the Winter Solstice, Imbolc, the Vernal Equinox, May Day, The summer Solstice, The autumnal Equinox, Laughnassad, and Halloween. There are, of course, no steaming cauldrons or any other kind of sensationalism; in fact, with the peaceful flute music accompaniment, the mood is much like any religious group's introductory presentation. While the pacing is perhaps a bit too relaxed at times, the cinematography is solid and the information should serve as an excellent reference source. Will it turn kids away from mainline religions? Doubtful, but it will explain--and probably demystify--paganism. Recommended. Aud: H, C, P.
PanGaia, #23; Spring 2000
by Leni Austine

This video on contemporary Neopagan practice is a well-crafted and intimate look at the actual ritual workings of actual every-day Pagans. Pagans focuses on the eight seasonal celebrations as practiced by small groups and Pagan families in New England. It shows Wiccan, Scandinavian and Druidic ceremonies, as well as shamanic and Native American components in Neopagan ritual. The result is a warm, poetic documentary that accurately depicts the ritual lives of many Pagans, against the lovely background of rural New England.
Expertly led by Ellen Evert Hopman, Druid priestess and author, and videographed by James MacAllister, the video also includes a beautiful original score by Paddy Keenan. This reverent and joyful work is lovingly made, and quite affirming and positive of Pagan faith. An excellent resource for anyone interested in Wicca or Neopaganism.

Pagans: The Wheel of the Sacred Year
Length: 65 minutes
ISBN = 1-930477-00-7
SRP1005
Available in DVD and VHS. To order and pay by check, send name, address and check or money order for $19.95, plus $4.00 for shipping and handling to Sawmill River Productions at the address linked to below.
To pay with a credit card, please add the item to your Shopping Cart and you will be redirected to PayPal to complete the transaction.